We all have a friend (or two) who truly enjoys style and lives and breathes fashion. While not everyone may be updated on what's in vogue, you don't have to follow suit. Simply read our list of thoughtful fashion gift ideas, and you'll be earning extra brownie points from all your fashionista friends.
Comfy sweatshirt
There's no such thing as too many sweatshirts for a fashionista. If you're on the lookout for gifts for fashionable friends, this one tops the list.  Sweatshirts make perfect gifts for fashionistas who lean towards roomy and oversized silhouettes! They look good with almost everything in a wardrobe and give you that super chic and athletic look wherever you go. They bring a sense of comfort to one's wardrobe and come in all forms – from the classic grey sweatshirts to the ones with cutesy prints.
Cool sneakers
Cool sneakers are all the rage right now. These can be paired with shorts, jeans, skirts or even a cute dress. Plus, they keep their feet comfy and covered. If your friend's personal fashion taste skews towards athleisure, these might just be the best choice. Throw in a pair of cute socks, too, and you're good to go.
Party heels
If your friend loves to dress down to the nines, party heels will blow her mind away. Every fashionista owns at least a few pairs of these and can never have enough. Gift them a pair that's comfy and drool-worthy to match every party outfit. Chances are they'll deem you the favourite friend from that moment onward.
Statement handbag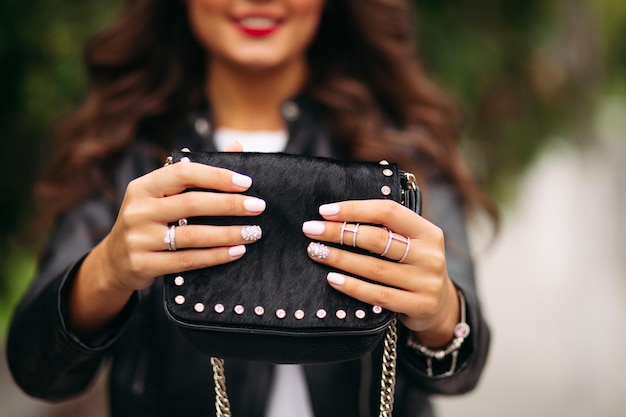 If we're talking about an IT girl here, then a statement handbag deserves to be on this list. Your fashion enthusiast friend will love this classic choice and will probably use it forever. Whether it's bright, beaded, quilted or bejewelled – statement handbags could never go wrong as fashion theme related gifts.
Jewellery pieces
Is your friend a sucker for jewellery? Gift them some statement pieces that will elevate their outfits. From vintage hoops to beaded necklaces to personalised bracelets, there are just so many choices. You can even gift them pieces engraved with their birthstone to add a personal touch to the gift.
Denim jacket
Perfect to layer over strappy tops, tank tops and even dresses – denim jackets are every fashionista's best friend. If you're still struggling to find gift ideas for fashion lovers, this one should save you time. Turns out that something as simple as a denim jacket can take an outfit to a whole new level. Isn't that what every fashion lover would want?
Sleek sunglasses
Every woman deserves a chic yet sleek pair of sunnies! Whether she'll be off on a beach vacay or just her usual run to the supermarket, she deserves to do it with style. They are ideal gifts for fashionistas who take their accessories a little too seriously but also actively dislike their time in the sun.  From types of frames to colours, to brands, there's a huge variety to choose from. Pick a pair that aligns with your friend's personality, and she's gonna love it!
Cosy scarves
Scarves are making major waves in the fashion industry again. They can be worn around the neck, as a headpiece or wrapped around the handle of a designer bag. Either way, they make a person's ensemble look as stunning as ever. Here's a pro tip: Scarves designed with natural fabrics like silk and cotton are usually way comfier than other fabrics!
Cute hair accessories
Headbands, hair clips, scrunchies, bandanas – you name it. Cute hair accessories will never go out of style. Gift your friend a bunch of these so they can make bold fashion statements and add some quirk to their wardrobe. Let her channel her inner Blaire Waldorf with a collection of cute headbands that you'll be giving her.
Makeup mix
For all that your fashionista friend is gonna get up to, she's going to need to look her best. And what better way to help her to accentuate her features than with a makeup mix?
When in doubt, turn to makeup. Pick out products you think she'll enjoy, like different coloured lipsticks, blush, an eyeshadow palette and a collection of brushes to go with it. Even if she doesn't end up using it every day, she'll be thankful to have her very own collection of makeup essentials.
Shopping for a fashion enthusiast can be intimidating. But with a list like this, you're bound to succeed and impress them right away!