Have you heard of the saying "new year, new me"? It's no secret that the start of a new year gives us hope for new beginnings. We can let go of the many things we could not achieve in the year before and have a clean slate to start afresh. This is where new year's resolutions come into the picture. Be it big or small, new year's resolutions help you press the "reset" button and attempt to do things differently.
There are so many new year's resolutions to choose from. From weight loss goals to learning a new skill, they can inspire you to look forward to the coming year and improve yourself.
Our new year's resolution ideas 2023 are for all the fashionistas out there. Whether cleaning out your wardrobe or trying new trends, you can make some worthwhile resolutions to follow. So take "new year, new me" to the next level with these ten unique new year resolutions:
Unique New Year Resolution Ideas
Go through your wardrobe
The first thing to do to start the new year is to clean out your closet. Most of us turn to our favourite garments and sometimes forget what we have stored there. So this is the time to take a deep dive into your wardrobe and pull out every piece of clothing. Sort through them to see if you will use everything you have. If you're unsure of any of the garments or you've outgrown them, put them aside. Reorganising your closet will allow you to understand better what new things your wardrobe needs and give you more outfit options for later.
This could also be a good time to also restructure your wardrobe. How do you want to segregate your clothes? Season-wise or occasion-wise? This will make outfit planning much more manageable.
Donate things you don't use
Once you're done reorganising your closet, if you have a pile of clothes you're sure you won't wear, you can donate them to people in need. In India, more than 1 million tonnes of clothes are discarded yearly. So instead of adding to this waste, why not help someone less fortunate than you? Many organisations are dedicated to providing clothing, shoes and other essentials to the needy. So if your pile of unwanted clothes and accessories has anything in decent condition, you can drop them off at one of these organisations, or give them to people you may know. This is an opportunity to add a good deed to your new year's resolution ideas 2023.
Avoid impulse purchases
Do you sometimes shop impulsively and only much later realise you probably have nothing to wear with what you bought? We're all guilty of doing this at some point, but buying something without thinking of whether it will go with the rest of your wardrobe may not be as good an idea as it feels at the moment. The item may not add value to your existing closet, and you probably won't have anything to wear with it. So alternatively, when buying new clothing, look for pieces that will complement what you already own.
Spend more consciously
This goes hand-in-hand with avoiding impulse purchases. Don't blindly follow trends or what you see on runways. Start shopping based on your personal style and what suits your body type. Just because something looks good on a mannequin or model doesn't necessarily mean it would look good on you. Try out every garment your purchase and keep in mind what you have in your closet when choosing new clothes and accessories.
Accessorise better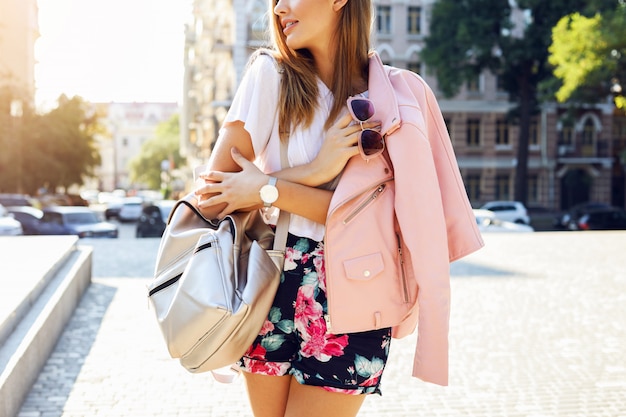 Have you ever wondered why some people look more stylish than others, even if they wear something similar? The answer is in the details. The little details in the form of earrings, bracelets, a handbag, a belt, etc., add to the overall style of the outfit. Learning how to punctuate your outfits with accessories will help you look better put together. It also is an excellent opportunity to express your personal style.
Take more style risks
One of the unique new year's resolutions you should aim for every year is making bolder choices with your ensembles. If you usually stick to muted and neutral colours, why not add some bright shades into the mix? If you tend to shy away from skin show, why not try a sleeveless top or a mini skirt for a change? There are so many ways you can break out of your usual tried-tested style and embrace something new.
Go for quality over quantity
You can think of quality over quantity from two angles – the fabric of clothing for longevity and minimising your wardrobe to what you actually need. Both are great new year's resolutions for 2023. Although opting for better materials in the short run may seem more expensive, you will save money in the long term since you can use the product for much longer. And when it comes to optimising your wardrobe, going for quality helps you declutter your space and makes it easier to decide what to wear.
Take better care of your clothing
Although it can seem tempting to dump all your clothes at once into the washing machine, following garment-specific care instructions will help you preserve your clothes so they last longer. Instead of thinking of your clothing as seasonal, think of them as part of your overall style. Of course, that doesn't mean that you shouldn't dress seasonally or buy apparel for specific occasions. It just means that you will get the most out of your purchase.
Put your best foot forward
Footwear is an accessory that is very often overlooked. While most people spend a lot of time curating their outfits, including jewellery and handbags, they just slip on what is in front of them when it comes to footwear. But one of the best things you can do to look more stylish is to pay attention to what goes on your feet. If you're putting together your footwear collection, go for a few different categories, such as ballerinas, loafers, sneakers, heels, etc. This will allow you to match your shoes effortlessly to the rest of your outfit.
Add sustainability to your fashion
Sustainability is the last topic on this list of new year's resolution ideas 2023. Over the past few years, it has become a hot topic, especially amongst those who care about the environment. And many brands are getting on the bandwagon and releasing clothing and accessory collections made with either sustainable materials or using an eco-friendlier manufacturing process. You, too, can do your bit for the environment by shopping more sustainably. Whether that means shopping in-store to avoid plastic packaging or buying natural fabrics such as cotton and linen, you can pick what works for you.
So, in the spirit of looking forward to the next year, let's start penning down some thoughts on what we can do differently. We hope these ten style-oriented new year resolutions will help you on your way.
Happy New Year!