Style goes beyond just what you wear. It's every aspect of your persona coming together. That means that grooming, skincare and hair care are all as important as dressing up in the right clothes and choosing the right accessories. So if you want to make an impression every time you step into a room, you should add these best grooming tips for men to your daily routine…
1. Visit the barber regularly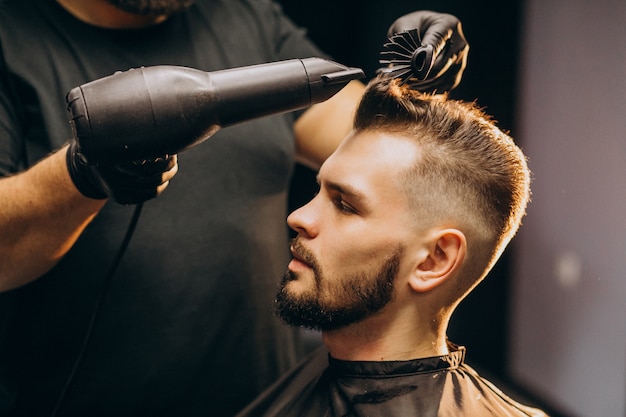 Making a good impression or just looking presentable starts at the top, which makes looking well-groomed an important first step. Add visiting the barber to your men's grooming checklist and get into the habit of going at least once a month (or more frequently if your hair grows fast). Don't wait for your hair to start looking like it needs a trim. Become proactive and get a trim even before it reaches this stage.
2. Know which products work for you
You can't take a one-size-fits-all approach when it comes to products for daily use. Whether it is a moisturiser, shampoo or deodorant, everyone's needs are different, and you should take the time to find products that work for you. Find scents that complement your body and formulas that suit your skin and hair. Pro tip: patch test any new products you buy to see how your body reacts to it before adding them to your everyday routine.
3. Invest in a beard kit
If you like a bit of facial hair, be it a beard or moustache, a beard care kit can solve all your grooming problems. The best way to get all your facial hair grooming products in one place is to invest in a kit that includes the oils, creams, brushes and sprays to care for your hair. Using these products will ensure a soft, shiny beard with none of the itchiness or dryness. This is one of the crucial personal grooming tips that can be a gamechanger in how you look.
Also Read: 8 Best Beard Care Products For Movember
4. Find your signature fragrance
Of course, using deodorant and perfume is always a good idea to keep bad odour, sweat and bacteria away, but you can go the extra mile by getting a signature scent. Just like that watch you wear everywhere, a signature scent is an accessory that expresses your individuality and personal style. It will also make you more memorable to those you meet. Fragrances have different aroma families – floral, woody and oriental, to name a few, so find what works with your body's natural smell and start using one today.
5. Build a skincare routine
No, that one soap that doubles up as shampoo isn't enough! Skin care is often overlooked in men's grooming, but paying even a little attention to this aspect of grooming will go a long way in how you look. Firstly, learn more about your skin type. Is it dry, oily, sensitive or a combination of all? Next, find products that suit your skin. Invest in a daily cleanser, moisturiser and a weekly exfoliant to start off. Add some tender loving skincare to your men's grooming checklist and see just how radiant you will look.
6. Use sunscreen
One of the simplest personal grooming tips you can follow is applying a layer of sunscreen before going outside. Regardless of the season, a coin-sized amount of sunscreen on your face will shield it from the sun's UV rays and protect it from sunburn, dark spots, fine lines and wrinkles and premature ageing. Good sunscreen formulas will also hydrate and moisturise your skin, protecting it from other external triggers.
7. Use hair care products
Getting the frequency of hair washes and the type of products you use right is the key to always having good hair days. Wash your hair at least every three days with a gentle shampoo and conditioner to remove dirt, grime and oil from your locks and scalp. Use a clarifying shampoo once in a while to remove product and oil build-up when you feel a regular shampoo isn't doing the job well enough. And lastly, a few drops of a hair serum will give you shiny and glossy hair that is ready to be styled.